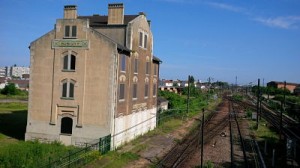 Students were quite moved by the visit to the Bobigny deportation station, the haunting site from which 22,000 Jews were sent to Auschwitz, where most died. Matthew Knox, one of the students on the trip, reported on the visit for the New Britain Herald. He also took the accompanying photo of the Bobigny station, looking down from a bridge near the entrance to the site.
Students honor memory of 22,000 Jews sent to Auschwitz
Anyone lucky enough to travel past the gate at the Bobigny train station in France with a knowledgeable guide will discover the true story of this building and its history. Last week, 19 CCSU students and two professors did just that. It was the first international group to receive the tour, and the first tour given in English since tours began in 2012. Read more.
http://www.newbritainherald.com/articles/2014/06/24/news/doc53a8d8fa02e13493142475.txt